And R.I.P. to: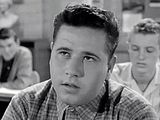 Frank "Lumpy Rutherford" Bank (1942-2013)~Frank Bank, best known for playing Clarence "Lumpy" Rutherford on the classic TV series "Leave It To Beaver", died on April 13th, 2013 of as yet unknown causes. Bank, whose birthday was April 12th, was 71 years old. Ironically, April 13th is Bank's former cast mate Tony Dow's (Wally Cleaver) birthday (actually mine too!).

As Lumpy on LITB, he was originally a bully who menaced Wally and Beaver Cleaver, but they slowly softened him up to a dopey lummox---sorta like "Big Moose" in the Archie comics (Frank Bank actually played Archie Andrews in an unsold TV pilot!). The dopey version of Lumpy, along with Eddie Haskell (Ken Osmond), became one of Wally's best friends.

Frank Bank was pretty much typecast as Lumpy, so roles were not plentiful for him after LITB ended in 1963. In the early 70's, he became a bonds broker, a very successful one, by all accounts. But, Bank didn't abandon acting---he appeared in "High School USA", which also featured Tony Dow and Ken Osmond, as well as a bunch of other 50's & 60's stars. He also reprised the role of Lumpy Rutherford in the TV movie "Still The Beaver", and "The New Leave It To Beaver" series that ran for a few years back in the 80's. Bank is survived by his wife Rebecca, 4 daughters, and 5 grandchildren. R.I.P., Lumpy...
Here is Frank Bank in a short clip from LITB. Tony Dow (Wally) and Ken Osmond (Eddie) appear as well: